TransitCheck is a tablet-based "App" which automates pre-trip, post-trip, driver swap, maintenance, and safety inspections. This moves users to get off paper while turning inspections into real-time actionable data. The TransitCheck tablet App pushes inspection data to the cloud for access from any web browser via the TransitCheck web portal.  The TransitCheck system provides access to inspection results, maintenance information, performance and audit reports, vehicle location, driver management, and automation of any paper forms used by drivers such as incident reports. Inspections can be easily customized by the user via the TransitCheck web portal at any time at no cost, and there can be an unlimited number of inspection types per vehicle.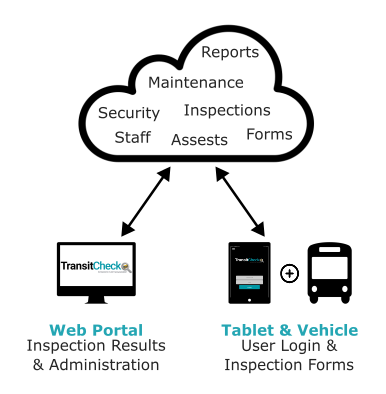 Discover Our Capabilities

Inspections
 Inspections are performed by a driver following an easy-to-use template. A template is a pre-determined sequence of inspection steps consisting of items to be inspected, causing the driver to walk around the vehicle. Each Item has a name, location, identifying pictures, and customer-defined descriptions. Entering descriptions allows for increased accuracy, reduced driver training, and management to determine what is passing or failing in real time.  All inspections are stored allowing for a paperless office implementation.

Mobile App
The Mobile Application runs on any device running Android.  Simply download the App onto the device, enter a setup code and you are up and running. Customers can supply their own tablets or source qualified tablets from us. Tablet features and sensors are used by the App to collect data and auditability. These include GPS, Clock, Front and Rear Cameras, Near Field Communication, light sensor, etc. A single tablet can inspect your whole fleet, no need to have a tablet for every vehicle (although some fleets do).

Low Cost
TransitCheck is cost-effective. There is no need to install anything on a vehicle the only initial cost is the tablet itself plus the time to prepare for the system. Using TransitCheck can be less expensive than performing inspections on paper and storing the paper forms for audits.  The time saved keeping vehicles in service which reduces the need for spare vehicles will pay for TransitCheck.  A customer can make all changes or additions required to inspections at no cost. Billing is just a monthly charge per vehicle.

Data & Reporting
TransitCheck provides an extensive reporting capability focused on vehicles, staff, and devices.  The status of all vehicles in the fleet can be easily seen on the dashboard when logging in.  Filters provide quick views by date, vehicle, staff member, or ranges of these selections.  In addition, to support detailed analysis, data exporting is supported.  Failing items are automatically added to a maintenance queue as soon as they are failed so the shop knows which needs to be addressed.
Easy to Use
The Mobile Application delivers a simple user interface.  We know that training for new hires is a significant cost.  Our simple App can eliminate the need for specific inspection training as the inspection items are presented in a manner that merely needs the inspector to look at the screen, identify the item to be inspected, and enter what they see.  The App can be set to require specific actions depending on the result selected, such as entering a note or taking a picture or video.

Security
TransitCheck provides its customers with complete control over access to their data. A master Administrator assigns individuals to access. Inspectors can only access inspection data on vehicles they are approved to inspect. Staff individuals are assigned access only to specific tasks required by their job function. The system provides customers with a complete activity log when and if needed to look back on. 

Inspection Assurance
TransitCheck is unique in that it does not require anything to be installed onto the vehicle to track inspections. The App uses GPS breadcrumbs, date/time stamps, and other automated features to provide customers with confidence that the inspection was done right and thoroughly. All records are stored electronically to continue your confidence against auditor scrutiny.

Cloud
The TransitCheck system is accessible from anywhere, at any time by any authorized user through a web Portal. This provides easy access to your data from anywhere.  Storage in the cloud removes any need for local IT resources to set up and operate the system, security, reliability, and unlimited scalability.   Your TransitCheck system can be up within a week of purchase.

Vehicles
Vehicle inspections are managed by templates. Templates are assigned to vehicles and the same templates can be assigned to multiple vehicles or individual vehicles. Templates can be changed at any time by the customer through the TransitCheck Web Portal. Inspection history is archived in the Web Portal and provides the customer with historical records of individual vehicles, groups of vehicles, or the entire fleet.

Forms
An optional feature of TransitCheck is TransitForms which can automate any form drivers use such as an Incident Form. The forms guide the operator through every step of collecting the required data, whether it is the other drivers license in an accident, or which days are required in a time off request form.    The information is automatically sent to the Portal and routed to the appropriate management staff.
Want To See TransitCheck In Action?
We can demonstrate TransitCheck, the Application, and the Portal, live in a Webinar environment.
Following the demonstration, and answering all of your questions, we support customers who want to try before committing to TransitCheck.
Our Customers
Our customers range from public transit agencies, school bus operators, districts, and commercial vehicle operators. Even though everyone is different, they all share common challenges and goals for an easy-to-use, secure solution to provide vehicle inspections and management.