TransitCheck is an integrated system consisting of cloud storage, a tablet application and web portal for vehicle fleets that require pre-trip, post-trip, driver swap, maintenance and safety inspections. The system manages inspections, basic maintenance, reports, and other optional features including vehicle location, driver management, and automation of paper forms such as incident reports. Inspections can be fully customized by the customer via an easy to use portal at any time at no additional cost, and there can be an unlimited number of inspection types per vehicle.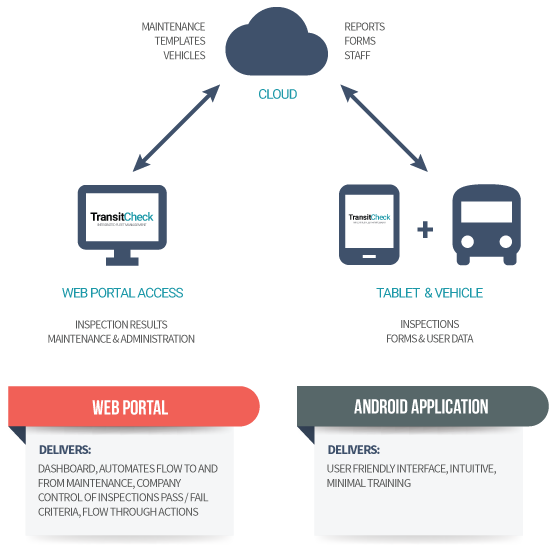 Vehicles
Vehicle inspections are managed by templates. Templates are assigned to vehicles and the same templates can be assigned to multiple vehicles or individual vehicles. Templates can be changed at any time by the customer through the Web Portal. Inspection history is archived in the Web Portal and provides the customer with historical records of individual vehicles, groups of vehicles or all of the fleet.

Inspection Assurance
TransitCheck is unique in that it does not require anything to be installed onto the vehicle to manage inspections. The Mobile Application uses GPS Breadcrumbs, Date/Time stamps and other automated features to provide customers with confidence that the inspection was done right and thoroughly. That confidence will stand up to auditor scrutiny.

Android
The Mobile Application runs on any tablet running Android Version 4.2 or later. Customers can supply their own tablets or source qualified tablets from us. Tablet features are leveraged by the Application. These include:  GPS, Clock, Front/Rear Camera, NFC, Barcode scanner (or the Rear Camera). A single tablet can inspect your whole fleet, no need to be paired to a single vehicle or driver.

Inspections
Inspections are completed by a driver following an easy to follow template. An individual template is a pre-determined sequence of inspection steps consisting of items. Items are specific points of inspection. Each Item has a name, location, identifying picture and customer defined outcome description. Outcome descriptions determine the result of the inspection item.

Security
TransitCheck provides its customers with complete control over its data and access to that data. A master Administrator assigns individuals access. Inspectors can only access inspection data on vehicles they are approved to inspect. Staff individuals are assigned access only to specific tasks required by their job function. The system provides customers with a complete log of activity when and if it is required.

Cloud
The TransitCheck Portal is accessible from anywhere, at any time by any authorized user through an internet connection to a URL. The portal sits in a data center delivering security, reliability and unlimited scalability. Inspection results are delivered to the Cloud from the Mobile Application.

Inspection Data
Inspection data is the results of a specific inspection.  These results, by vehicle, are archived in the portal as well as the tablet.  Over time, these results provide history.  Through the portal management can assess vehicle performance and staff performance.

Maintenance
Inherent to TransitCheck is the automation of inspection results.  Most commonly, a failed inspection item on a specific vehicle gets delivered to maintenance for correction.  Further, maintenance can status each demanded action in real time so operations can track, for example, an out-of-service condition from identification, to assignment, to resolution.

Web Portal
The TransitCheck Portal is the primarily repository of inspection results.  It has unlimited storage capacity so historical records can be analyzed.  Standard reports on vehicles, staff, maintenance are readily available. But, perhaps the most important feature is the Dashboard.  Whenever an authorized user accesses the portal the first presentation is the real time status of the vehicle fleet ((In Service, Out of Service, Pending Maintenance). Revecorp also provides customers and/or their existing system providers with standard API's for automated interconnections to the TransitCheck system.
Easy to Use
The Mobile Application delivers a simple user interface.  It can eliminate the need for specific inspection training as the inspection items are presented in a manner that merely needs the inspector to look at the screen, identify the item to be inspected and hit a button to capture the result of the inspection.  The company can demand specific action depending on the result selected, such as take a picture, input a number or text.

NFC
If the Android Tablet is equipped with NFC (Near Field Communication) then the system can automatically manage the sign-on of the tablet user when they have NFC compatible identification credentials. This capability is very helpful in avoiding calls to a company help desk to get password resets.

Forms
TransitCheck is evolving.  A recent addition is an option called Forms. The most common form demanded is an Incident Form. An Incident Form is a document designed to collect details whenever an incident occurs with a vehicle during a route, such as an accident. The form guides the operator through every step of archiving the incident including taking pictures, cross-referencing GPS coordinates, documenting witnesses and their identifications. And with cellular communications this information is available on the Portal in real time.

Low Cost
TransitCheck is cost-effective. Since there is no need to install anything on a vehicle the only initial cost is the tablet itself plus the time to prepare for the system. Revecorp assists with that effort by providing a data-collection template to customers which assist in gathering the vehicle and staff details required by the system. The Start Up fee from Revecorp is there to port this data into the portal for first time use. Following this step, a customer can make all changes or additions required over time. Billing is just a monthly charge per vehicle. The charge is dependent on a customer's decision on contract length (month-to-month, annual or multi-year).

Reports
TransitCheck provides an extensive reporting capability through the portal.  Standard reports are focused on vehicles, staff, devices.  Filters provide quick views by date, vehicle, staff member or ranges of these selections.  In addition, to support detailed analysis, data exporting is supported.

Syncing
The system automatically handles the synchronizing of data between the mobile application (tablet) and the Web portal. Results of inspections are automatically passed to the Web Portal in real time. However, if an internet connection is not available to the tablet, inspections can continue, and the results will be forwarded when the connection is available. And, even more importantly, updates and changes required by one or more tablets are automatically pushed to the mobile device. These include application updates, but also day-to-day changes such as template modifications or updates.

Cellular or Wi-Fi
The tablet communicates with the portal by Wi-Fi and/or cellular data. Administrators access the portal through an internet connection and their browser. Security into the portal is provided by credential authorizations. As a result, the customer can access the portal anywhere, at any time on any computer that has an Internet Browser.
Tangible Benefits Instead of Paper
Tangible benefits include:
Tangible benefits total between $45.75 ($15.00 + $30.00 +$0.75) to $73.25 ($22.50 + $50.00 + $0.75) per vehicle per month. These totals are based on:
Elimination of burden of costly multi-part forms (often costing between $0.50 to $0.75 each). For a typical single vehicle there is a need for at least a Pre/Post trip inspection at the start and end of every day. Cost avoidance in this case is between $15 and $22.50 per month. This cost is approximately the same if an agency uses a single piece of paper and then copies each form multiple times to serve distribution and archive purposes.
Elimination of data entry tasks to transcribe the paper forms into other systems for distribution and/or storage. Typically, a data entry individual could enter the data from a form in 3 to 5 minutes. Assuming 60 forms per vehicle per month this translates into between 3 and 5 hours of labor. Even with the lowest labor rate assumptions this equates to between $30 to $50 per month per vehicle.
Elimination of storage costs for the paper forms.
In-Tangible Benefits
In-tangible benefits include:
Assured inspections through leverage of the technology (date/time stamps of each entry, GPS breadcrumb trails, picture records, etc.).
Clear source data collection with the inspector providing on-the-spot clear records of situations (such as a failed inspection item) with comments and/or pictures.
Reduced errors because of direct source data collection and elimination of data entry task.
Reduced vehicle costs through: more timely correction of identified problems, accurate records of individual vehicle maintenance history.
Improved passenger and driver safety when a vehicle with a critical problem is automatically kept from service.
Management access to real-time critical information (a dashboard) and data on vehicles (immediate reporting of vehicle status: pass – available for service; warning – need for correction soon; fail – out of service) which provides more effective fleet management and hence better customer service at a lower cost.
Supervisor access to inspection performance (was the inspection performed and done well) available by area, by individual, over time which provides opportunities for coaching or discipline if required.
Audit trails when required and as a result less direct audit costs along with reduced liability for the operation and resulting lower insurance rates.
Reduced insurance costs. Direct for the vehicles themselves as a result of more timely maintenance. Reduced liability through audit confirmation of inspections. Reduced liability and accidents through telematics access that can affect driver behavior.
Easy Implementation
Easy Implementation:
The Android App is available on the Google Store and can be easily downloaded and initialized.
The Android App is intuitive and hence inspector training at implementation is minimal.
Implementation tasks are grouped (vehicle lists, employee lists, inspection specifics) and as a result a new customer can leverage Revecorp services to easily deploy start up functionality quickly and inexpensively.
Deployment of TransitCheck leverages pictures and inherent audit capabilities of the tablet and app (GPS, date/time stamps, pictures) so there is no need for adding any hardware to the vehicle to provide management and audit support.
Customer Control
Customer Control:
TransitCheck is designed that initial and long term configurations are completely controlled by the customer. These include:

Vehicle inspection content can be configured by the company or Revecorp initially but changes (eg: new inspections, new inspection items, changing inspection item order) can be easily made by the customer without the involvement of Revecorp;
Employee lists and permissions are set and administered by the customer without the involvement of Revecorp.

System data is customer-owned. Everything within the system is available to the customer during the agreement term and immediately following at no cost to the customer.
The Android App will run on a wide variety of Tablets. They do not have to be used exclusively for TransitCheck.  Tablets can be purchased directly from Revecorp or supplied by the organization or the system is so flexible it even supports BYOD (Bring Your Own Device) and the inherent advantages BOYD provides such as reduced damage over time.
The use of the Tablet App is flexible. A single Tablet can be used for inspection of a single vehicle or multiple vehicles.  Further, the Mobile App can support inspections even when out of communication (Cellular Data or WiFi) and synchronizing is automatic when internet access is available.
Architecture and Updates
Architecture and Updates:
Changes to the mobile application are pushed automatically to tablets.
Access to the TransitCheck Portal (for management and administration) is available anywhere at anytime through any computer with a Web Browser to any user with permission.
Portal permissions can be widely assigned. Individuals can be given extensive access or limited to just parts of the portal applicable to their specific job function.
Portal access does not require any additional hardware (such as an encryption appliance) that some other systems utilize. Data within the system is encrypted and thereby secure.
The TransitCheck host system resides in the cloud (Amazon Service) and benefits from their size, scope, reliability and data security.
Corrections or Improvements to the system are pushed into the cloud and available immediately upon receipt without the need to return hardware to Revecorp for reconfiguration.
TransitCheck can easily integrate your telematics information. Inspection items that are available through a connection to the vehicle information system (through the OBD port) are handled.  And TransitCheck offers an option for technology to implement this capability through a Bluetooth connection (for fuel level and odometer readings but also to "monitor" driver behavior) or with its open API's could interface with whatever else is already implemented.
New features can be implemented remotely through the portal without the need to return any equipment to the supplier.
The tablet can leverage state-of-the-art NFC (industry standard) to support automatic logging on of a specific employee through their ID Badge. The device can similarly, scan the VIN identifier (bar code) with either a barcode scanner or with the camera and an Decoder App.
Who is behind TransitCheck?
Revecorp is responsive to customer needs. The company does and will continue to make changes and improvements to the system in response to customer feedback.
If a company wishes not to burden themselves with on-going tasks to improve the inspection process, then Revecorp is ready and willing to sub-contract those efforts (eg: changes to inspection templates, additions to vehicle fleets).
TransitCheck is a new system with the inherent benefit of limited burdens on previous releases. Further, the system was engineered from the ground up knowing that flexibility is a key customer requirement.
Contracting for TransitCheck will demonstrate Revecorp's flexibility. Customers can sign month-to-month, annual or multi-year contracts.
Our customers and partners range from manufacturers of vehicle control systems to public transportation agencies, all of whom have different requirements for their processes. Even though every one is different, they all share common challenges and goals for an easy to use, secure solution to provide vehicle inspections and management.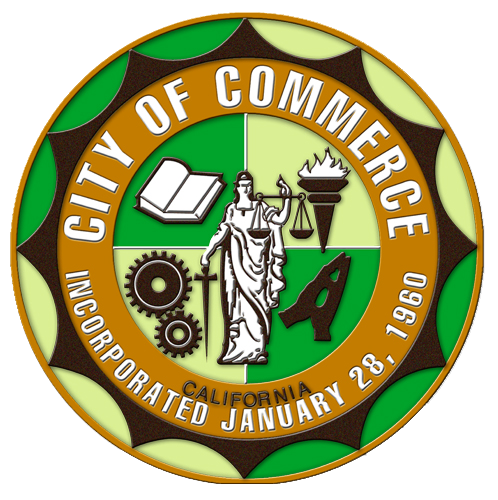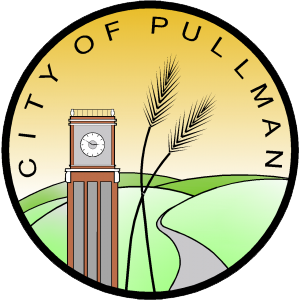 WANT TO TRY TRANSITCHECK?
We can demonstrate TransitCheck Application and the Portal in a Webinar environment.
Following that, we support customers who want to try before they buy with a production-like demo environment including portal access and TransitCheck on a tablet.
Have Questions? Contact us Now!